The Victoria Bar Association invites you to an evening of socializing and volleyball at the Sticky Wicket Rooftop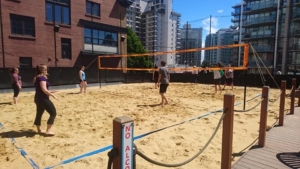 Date: Thursday, June 15, 2023
Time: 5:00 PM- 8:00 PM
Where: Sticky Wicket Rooftop,  919 Douglas St.
Price: $25 per person (includes appetizers)
When you purchase your ticket, please indicate if you are interested in playing volleyball (or if you just want to socialize/cheerlead) and if you would like to play with certain people or would like to be assigned to a team. As there is only one volleyball court, we will set up a fairly informal tournament schedule so everyone will get a chance to play. An appetizer buffet will be provided (please indicate allergies).
Capacity is limited so register early! You must have a VBA membership to attend this event.
Payment through PayPal is preferred and is the best way to guarantee your spot. If you need to pay by cheque, please contact Amanda Macdonald at amanda.macdonald@gov.bc.ca.